Welcome to Hillcrest Manor B&B and "An Affair to Remember", LLC . . .
History...
Our Mission: To radiate love, warmth, grace and composure and create, host and facilitate an atmosphere in which all who enter may be inspired, encouraged and embraced.
Hillcrest Manor, a Montgomery, Alabama bed and breakfast, is a magnificent and grand mansion that was rebuilt around 1915 and has been listed on the Alabama Register of Historic Places. Encompassing over 5,000 square feet and reputed to be one of the grandest homes built in Montgomery, the storybook mansion is the legacy of the late Judge and Mrs. Will Hill.
The original home, built in the mid-1800s fell into disrepair and was torn down around the turn of the century. The Hill's rebuilt the mansion over the same foundation and basement, using the bricks from the former antebellum home. A rich pre-Civil War history (to include Wilson's Raiders encamping on the property on their way to the city) makes Hillcrest Manor a landmark in Montgomery, Alabama. With its stately columns, Hillcrest is an example of fine Roman Revival Architecture. The stained glass windows, leaded glass doors, pier mirrors, crystal chandeliers and gold leaf cornices are all original to the house, as are many other furnishings.
Hillcrest Manor is located on a tree-lined street, situated upon a hill overlooking the Historic Garden District. The mansion rests amid a private 1.91 acres of mature trees, lush gardens, colorful flowers, verdant manicured lawns and formal fountains and statuary. Formally owned and maintained by the Montgomery Federation of Garden Clubs for nearly 50 years, the grounds are a discovery in themselves. The Wedding Garden is a private and secluded area that is quietly tucked away among the 100 year-old trees, an arbor dripping with wisteria and a waterfall and stream that flow to a pond reflecting its lush surroundings.


Gleaming white fluted columns give rise to a covered and expansive veranda that surrounds three sides of the mansion. Stepping across the veranda and passing through the mansion's large leaded glass doors, one discovers a truly elegant and gracious era. While modernized with air conditioning and state-of-art fire alarm systems for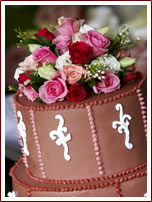 comfort and safety, the mansion's impressive museum-quality woodwork has been meticulously preserved and remains completely intact. The grand parlor and the dining room, separated by pocket doors, boast twelve-foot ceilings adorned with intricately carved moldings, fireplaces with ornate mantels, and towering windows. The cheerful sun room overlooks the side Court Yard and reception garden through multi-paned glass windows and French doors. The adjacent library offers the warmth of a third fireplace and floor-to-ceiling built in bookshelves. An original portrait of Corrie Amelia Milton Hill hangs above a mantel, watching over her beloved Hillcrest.
Four beautifully appointed guestrooms upstairs, each with private luxurious bathrooms, can accommodate overnight guests. The entire mansion is tastefully furnished with fine European antiques, antique lighting fixtures and crystal chandeliers. Breakfast is served each morning in the upstairs Morning Room. The Honeymoon Cottage is a private retreat of quietness and comfort. Furnished in blue and white with a seaside theme, the cottage has its own kitchen and living room with fireplace and exudes comfort with its overstuffed furniture. The private bedroom and bath are the epitome of transferring to another place and time. The only thing missing are the ocean waves outside the bedroom window!
Hillcrest Manor is open for public viewing by appointment except when weddings or other private events are being held. A collection of wedding photos is displayed to help brides and grooms envision their own wedding being held at the Manor. Hillcrest Manor continues to be the perfect setting for private parties, luncheons, and teas. The business traveler is welcome, and many local businesses choose to have off-site business meetings in our quiet surroundings. Please feel free to give us a call and stop by and see Hillcrest Manor for yourself!