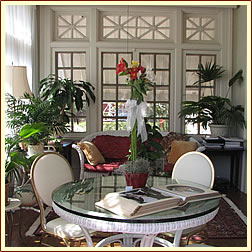 Dear Guest,
Thank you for visiting our Web site and for choosing Hillcrest Manor, our Alabama bed and breakfast inn.
When purchased in January 2004, Hillcrest Manor was, in my eyes, almost as grand as she is today. Owned at the time by the Montgomery Federation of Garden Clubs, she was starting the show her age and calling for that much-needed face-lift. Three years later, in October 2007, we celebrated her Grand Opening. She boasts of four beautifully appointed guestrooms and a honeymoon cottage, as well as five new bathrooms and the refurbishing of three existing ones. Restored moldings and fireplaces, floors and walls, a new state-of-the-art commercial kitchen and dish room, security and fire protection systems are but a few of the challenges that we met and achieved. The lovingly restored Hillcrest Manor B&B now offers guests accommodations they would expect to find in a luxury hotel plus the enhancements of our personalized service and signature hospitality.
When I set upon this Path many years ago, I knew in my heart that I would someday find my way here. Beginning with the talents that God gave me, a vision and a mission, I never gave up.
We have been through it all...the valley that seemed unending, the tests of time and perseverance, the loss of faith in so-called "professionals" to putting our faith in a Higher Power and believing that this Path would lead us to bring this home to you. The journey has been one of extreme struggle, as anything worthwhile is, but I must say I would do it all over again, as my lifetime dream has been realized. A dream to provide you with the most beautiful setting, the most beautiful accommodations, the most delicious food.... Therefore, it is with great pleasure and humility that we say welcome, we have been expecting you, and we hope you enjoy your stay here.
Welcome to Hillcrest,
Mary Taylor-Perry & Marchman Perry
MISSION STATEMENT:
To radiate love, warmth, grace and composure; and create, host and facilitate an atmosphere in which all who enter can be inspired, enlightened, encouraged and embraced.